Get some extra joy to better start your day.
If you feel upset and you need a dose of boost in order to get happy, then let me tell you that you are at the right website. Right below, you will find magnificent sayings and quotes about happiness said by famous people such as Elizabeth Gilbert and Meghan Markle.
We hope, after reading our selection of quotes, you get what you are looking for.Without further details, let's get started !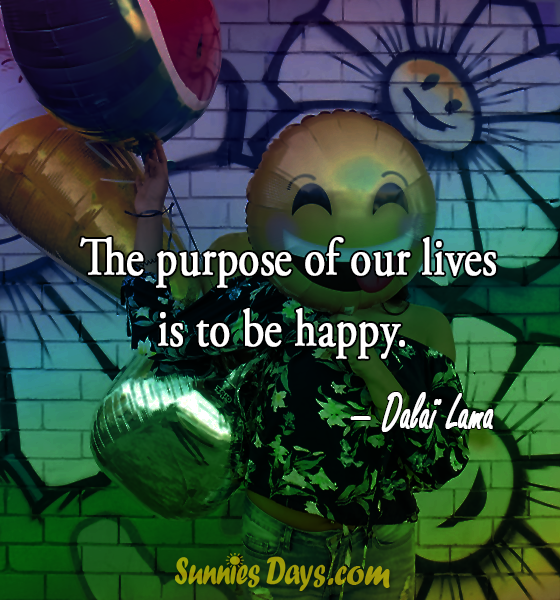 1. The purpose of our lives is to be happy. -Dalaï Lama.
This is one of the best quotes about being happy! Actually what does life mean if we are not happy? We won't enjoy life if we weren't happy. This quote encourages us to always remember that our lives are meant to be happy ones.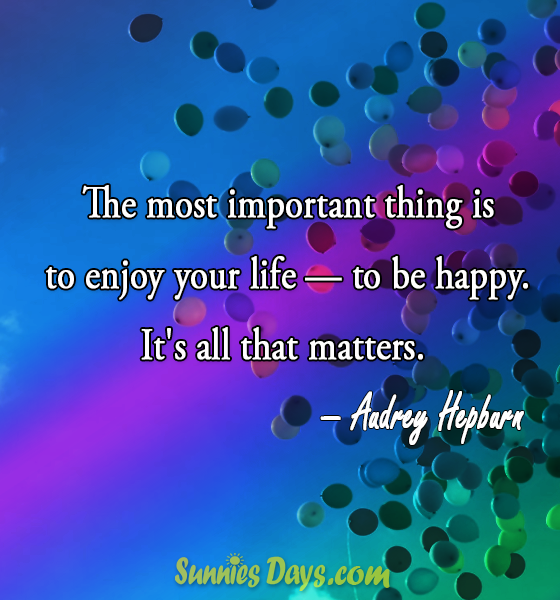 2. The most important thing is to enjoy your life — to be happy. It's all that matters. -Audrey Hepburn.
Another amazing saying of Audrey Hepburn! Actually, in this life we don't have to care too much about our work and money, what matters most is to be happy while we can breath. Life and time go fast and we can't waste it!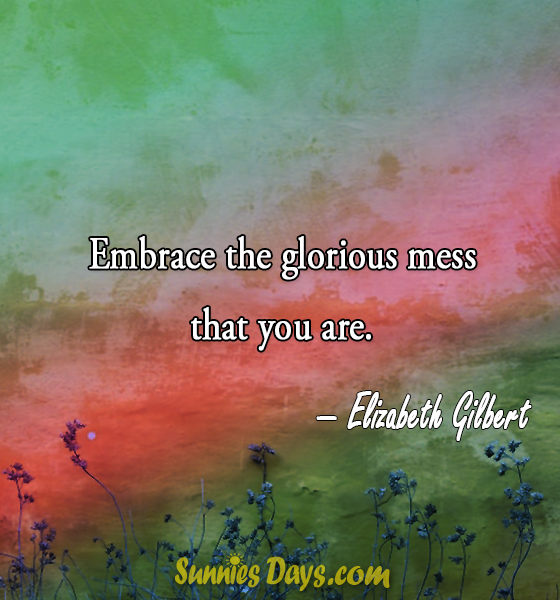 3. Embrace the glorious mess that you are. Elizabeth Gilbert.
Well, I need to extend this short and so meaningful quote because it has touched me. We always trying to find balance between happiness and sadness and because no one is perfect, you have to go on with your flows and search for that beautiful part hidden in your soul. Trust your feelings and enjoy every moment, contemplate the chaos and let it go.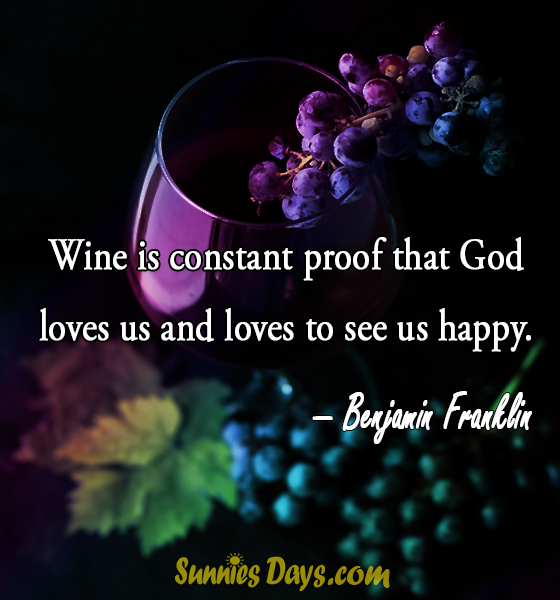 4. Wine is constant proof that God loves us and loves to see us happy. -Benjamin Franklin.
Many people say that Benjamin Franklin has never said this but let me tell you, who ever has told this, wine is certainly a good choice to keep the good mood and sometimes you feel more productive.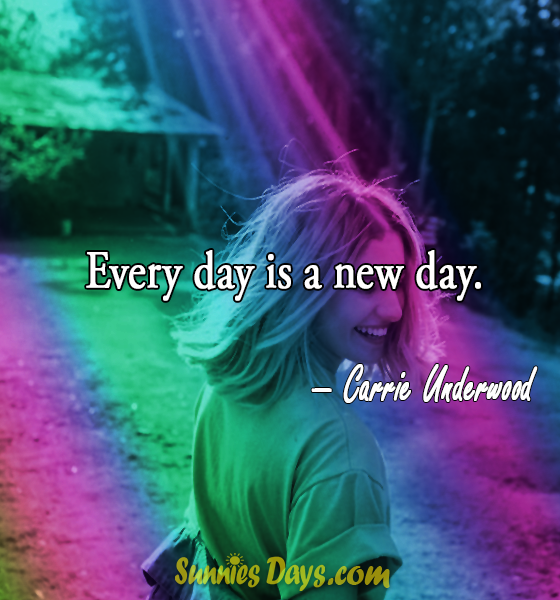 5. Every day is a new day. -Carrie Underwood.
I admire this quote, it is very inspiring! Carrie Underwood says that every day is a new chance to change, if you failed yesterday so no problem, tomorrow is a good opportunity to try again.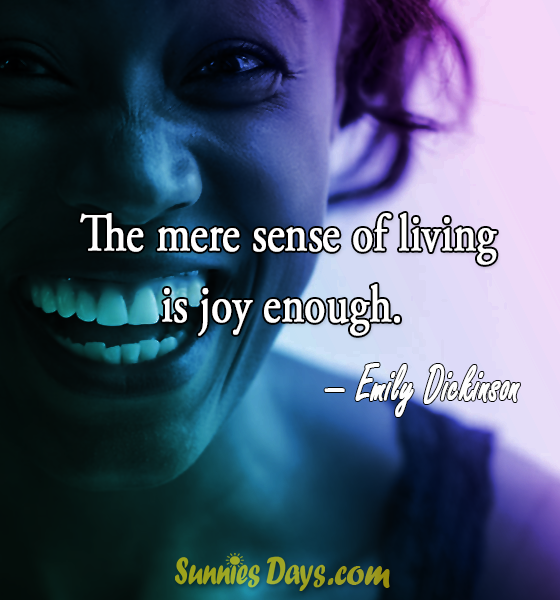 6. The mere sense of living is joy enough. -Emily Dickinson.
Another great saying about happiness made by Emily Dickinson. Life is simple if we know how to deal with it. We just need to get a sufficient dose of joy and then we would feel the right sense of life.
7. Happiness comes in waves. It'll find you again. -Unknown.
Who ever has said this quote, he knew how to express the exact definition of happiness. You could face tough days and you may feel sad for a while but do not worry, happiness will find its way to you again.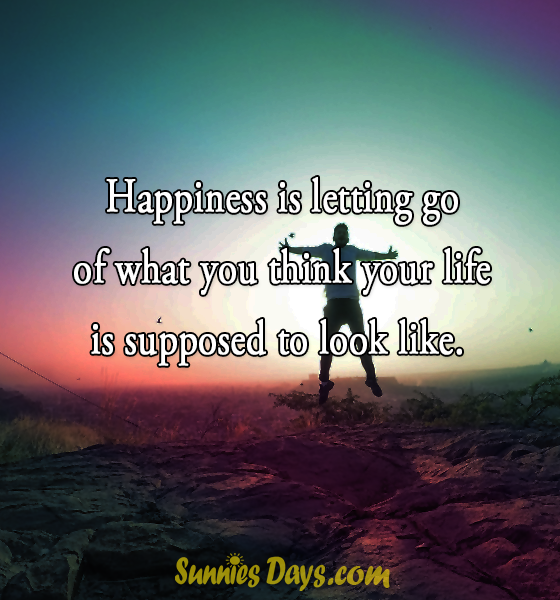 8. Happiness is letting go of what you think your life is supposed to look like. -Unknown.
This is a good advice to take! If you want to be happy then you have to get rid of the idea of being perfect or you have simply to forget about what is supposed to be and enjoy your life like it is.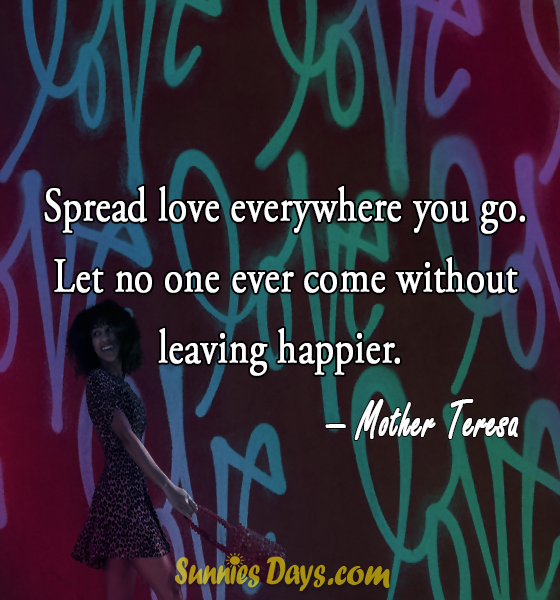 9. Spread love everywhere you go. Let no one ever come without leaving happier. -Mother Teresa.
I really don't need more words to talk about this quote. Its meaning is endless ! Be happy and make everyone around you happy.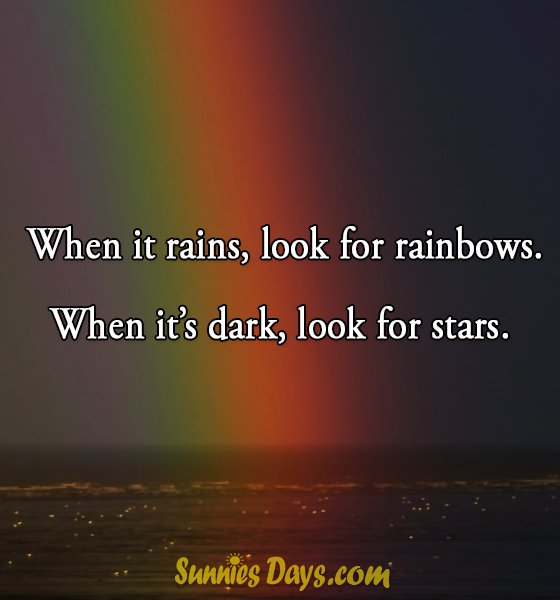 10. When it rains, look for rainbows. When it's dark, look for stars. -Unknown.
There will be always hope! This is the most important thing to consider in this life. Don't lose hope if you fail, just remember that you have a chance to try again.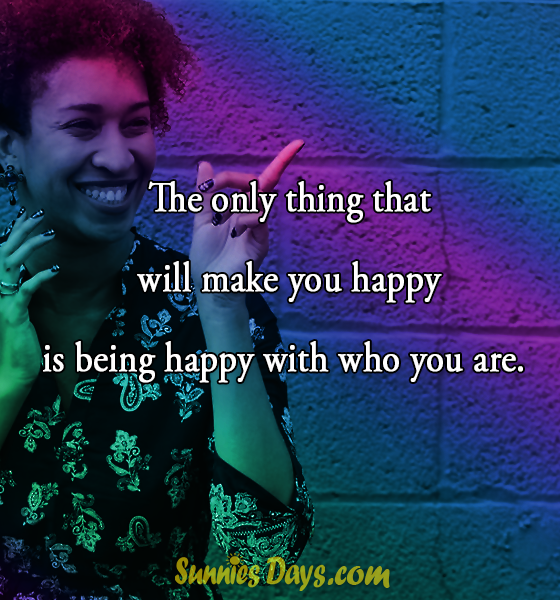 11. The only thing that will make you happy is being happy with who you are.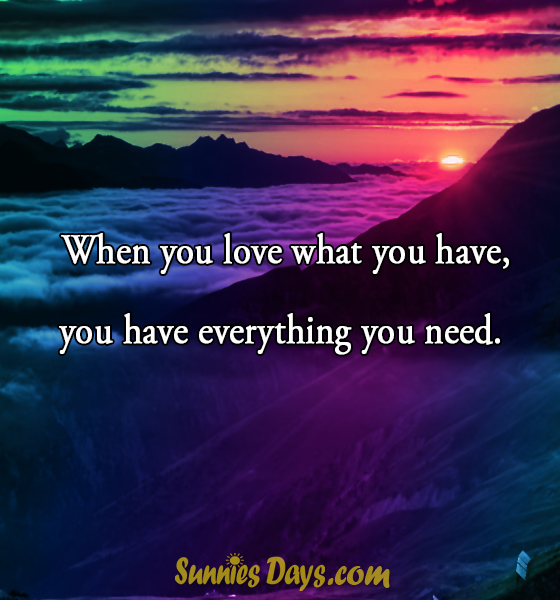 12. When you love what you have, you have everything you need.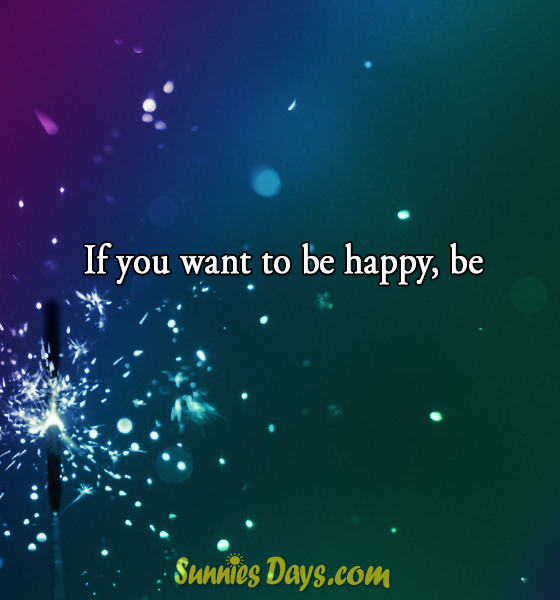 13. If you want to be happy, be.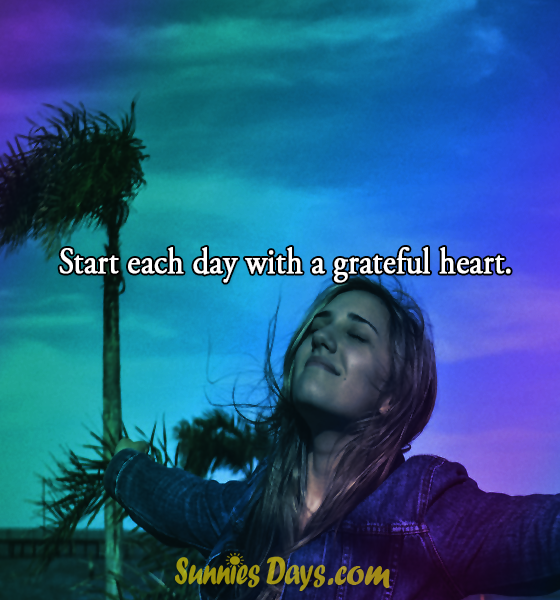 14. Start each day with a grateful heart.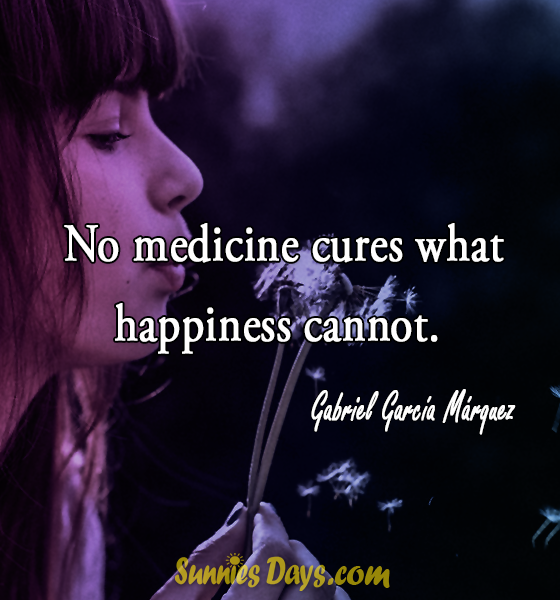 15. No medicine cures what happiness cannot. – Gabriel García Márquez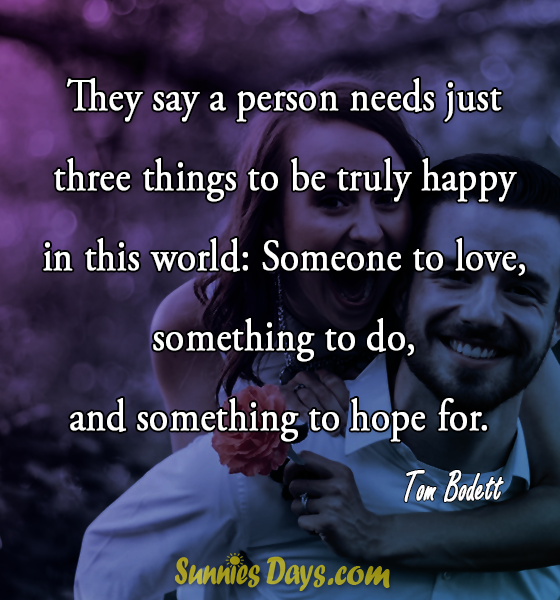 16. They say a person needs just three things to be truly happy in this world: Someone to love, something to do, and something to hope for. -Tom Bodett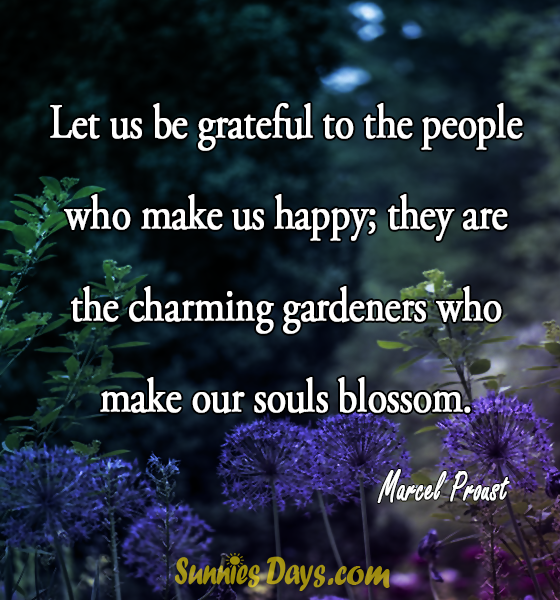 17. Let us be grateful to the people who make us happy; they are the charming gardeners who make our souls blossom. – Marcel Proust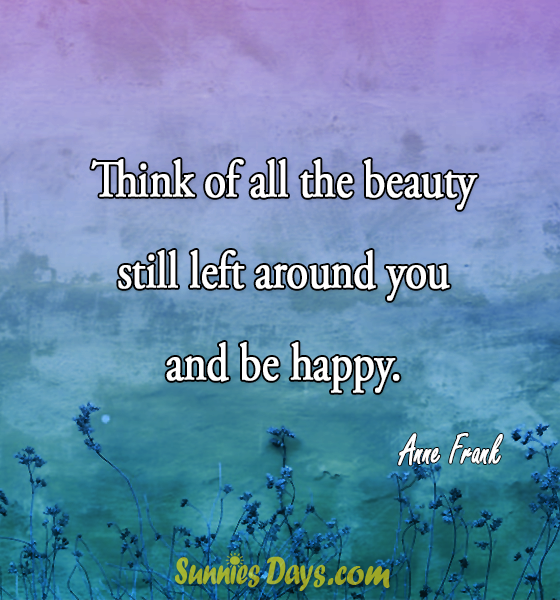 18. Think of all the beauty still left around you and be happy. – Anne Frank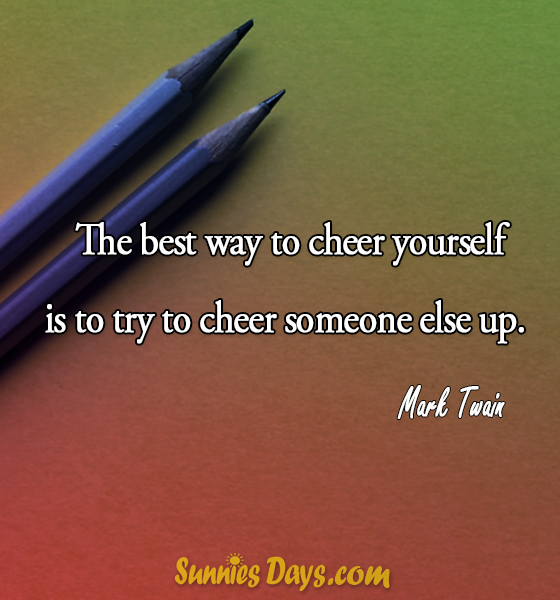 19. The best way to cheer yourself is to try to cheer someone else up. -Mark Twain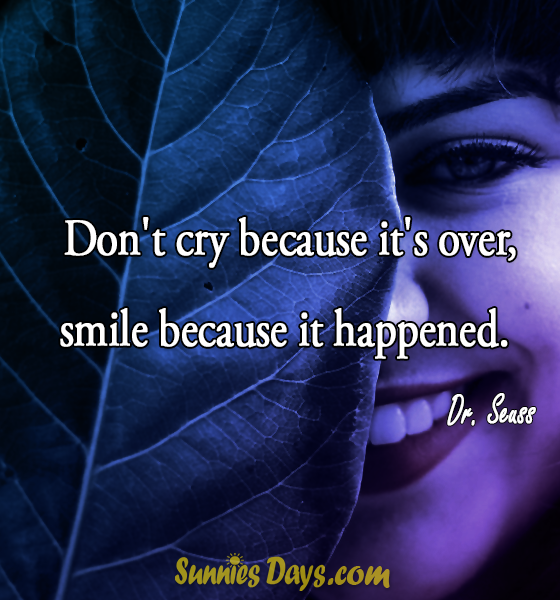 20. Don't cry because it's over, smile because it happened. -Dr. Seuss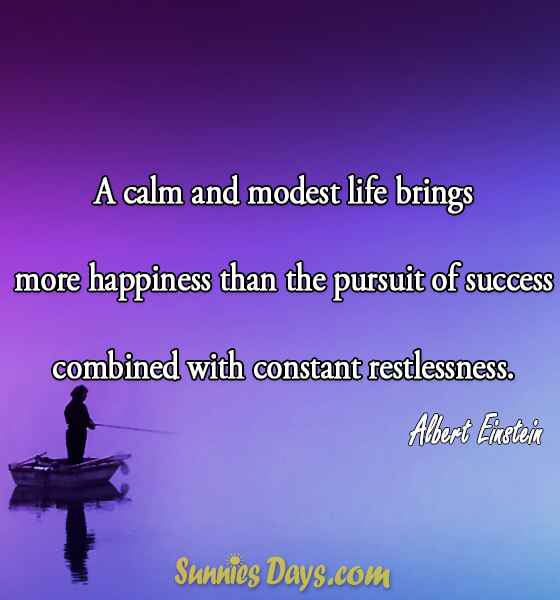 21. A calm and modest life brings more happiness than the pursuit of success combined with constant restlessness. -Albert Einstein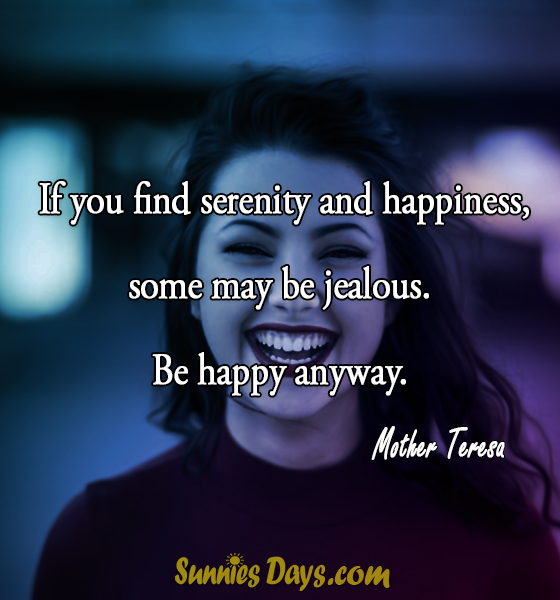 22. If you find serenity and happiness, some may be jealous. Be happy anyway. -Mother Teresa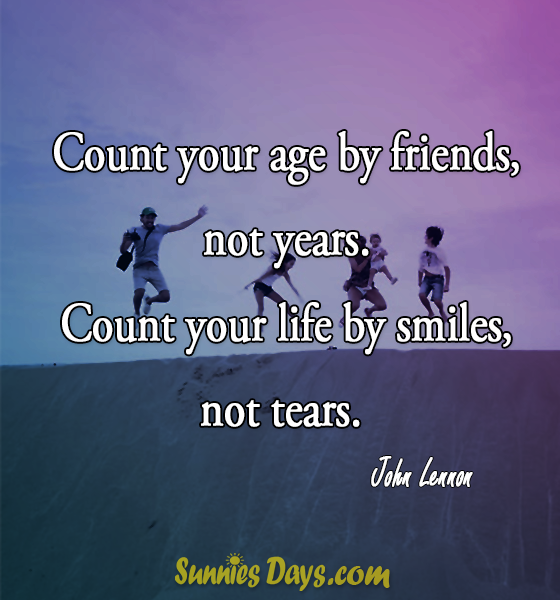 23. Count your age by friends, not years. Count your life by smiles, not tears. -John Lennon