Here it is a collection of life sayings and quotes said by well-known personalities that will boost your energy and make a better start of your day.
LIFE, is an easy word to write and to spell as well, but when it comes to explaining what is life? I think it's quite complicated to tell! And whether you are rich having a wealthy life or belonging to a poor family, you will face the ups and downs of life. Our purpose in life is to reduce these downs and get cheerful moments and inspire from the universe.
In case you feel upset or in need to read some useful advice, we brought to you these life quotes and sayings that will inspire you and support you to spend happy days.
1." You only live once, but if you do it right, once is enough." — Mae West
Many people complain of the shortness of life but this quote tells that if we do it correctly we would get a very happy life.
2." Life is like riding a bicycle. To keep your balance, you must keep moving." — Albert Einstein
Obviously, in life, if you stop you will definitely fail and fall.
3." If life were predictable, it would cease to be life, and be without flavor." — Eleanor Roosevelt
Most people dream of a predictable life in which you know what will happen every day, but do you enjoy a movie with a predictable end? I don't think so.
4." Rise above the storm, and you will find the sunshine." — Mario Fernandez
Not all the problems are bad in your life, some of them just come to clear up a new path.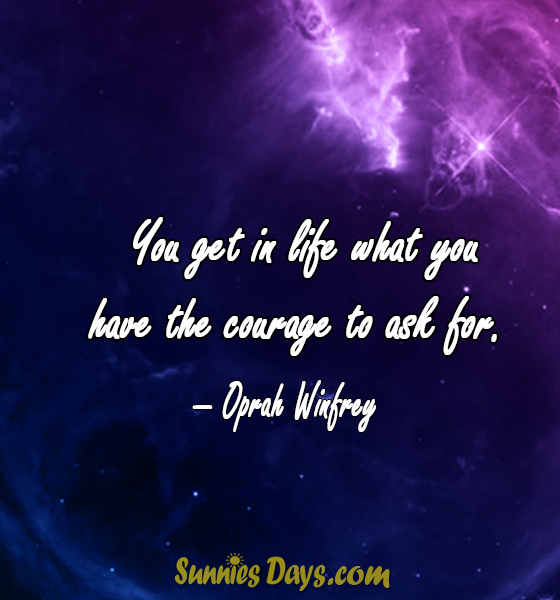 5." You get in life what you have the courage to ask for." — Oprah Winfrey
I think this one is my favorite on the list. Oprah has totally right! When we were young we cry and shout to get what we want. When we grow up, nothing has changed, we should keep asking for what we want in order to get it.
6." Good is not enough. You've got to be great." — Simon Cowell
Actually being good is not enough when you know that you always have the chance to be the best!
7." Nothing can dim the light that shines from within." — Maya Angelou
Only one thing you can control in this life, it's your thought and your reactions. Except these, everything else is controlled by external phenomena and conditions. This is one of the best life quotes.
8." The big lesson in life is never scared of anyone or anything." — Frank Sinatra
Do what you want and say what you have to say. Never give importance to what others say. This is your life and you have to enjoy it.
9." Things change. And friends leave. Life doesn't stop for anybody." — Stephen Chbosky
This is the best life quote that encourages you to move on and never get stuck to the past.
10." The most important thing is to enjoy your life – to be happy – it's all that matters." — Audrey Hepburn
For every one of us his or her own activity that makes him or her happy, some of us go to work to be happy, some others do sport to be happy. The goal is unique! Happiness! But the way to be happy is different from one person to another, you just have to find yours!
11." Keep your eyes on the stars and your feet on the ground." — Theodore Roosevelt
12. " The people you must lie to, own you. The things you have to lie about, own you." — Michael Ventura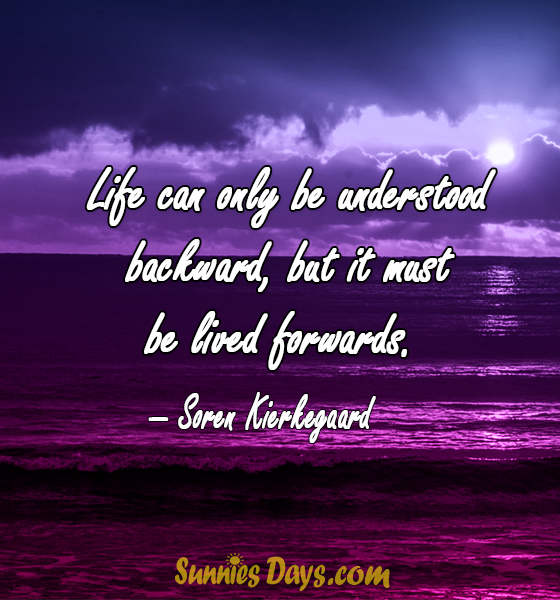 13." Life can only be understood backward, but it must be lived forwards." — Soren Kierkegaard
14." Time is free, but it's priceless." — Harvey MacKay
15." A bird doesn't sing because it has an answer, it sings because it has a song." — Maya Angelou
16." Begin at once to live and count each day as a separate life." — Seneca
17." In every life, we have some trouble, but when you worry you make it double." — Bobby McFerrin
18." When two people fall in love, past and future disappear." — Paulo Coelho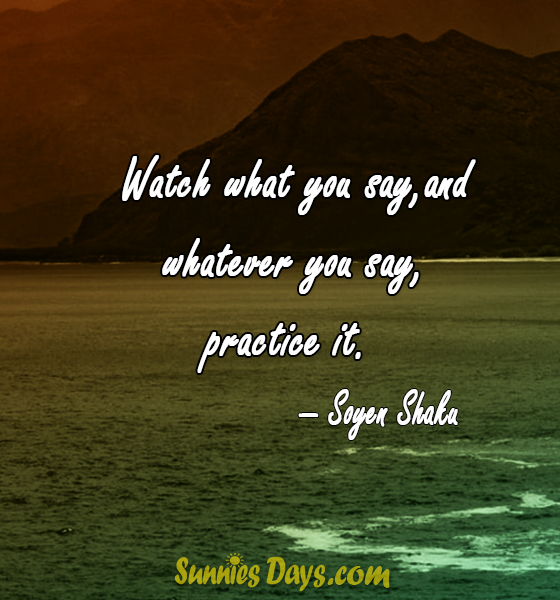 19." Watch what you say, and whatever you say, practice it." — Soyen Shaku
20." Every shadow—no matter how deep—is threatened by morning light." — Izzi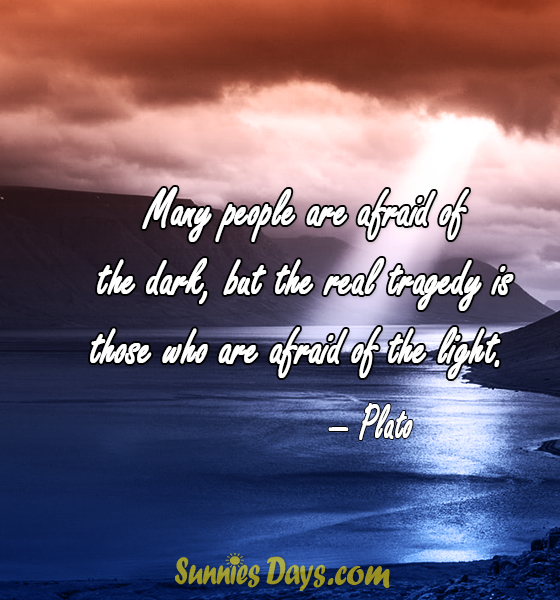 21." Many people are afraid of the dark, but the real tragedy is those who are afraid of the light." — Plato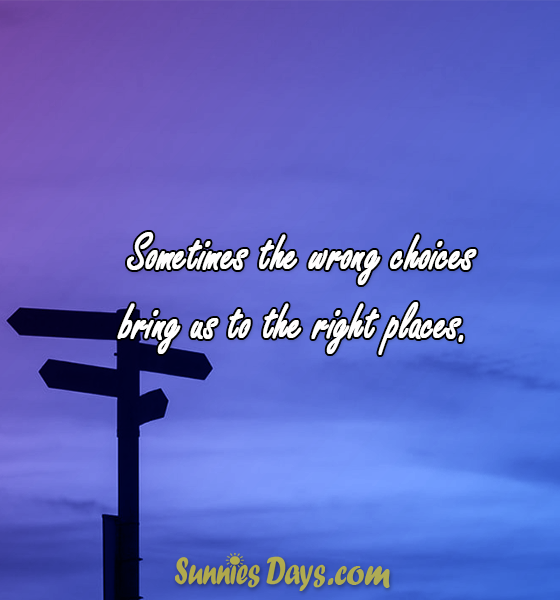 22." Sometimes the wrong choices bring us to the right places." — Unknown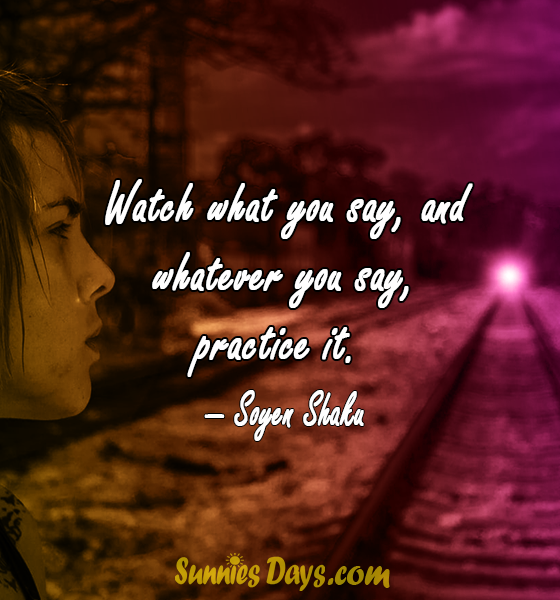 23." Watch what you say, and whatever you say, practice it." — Soyen Shaku
24." Life is not always a matter of holding good cards, but sometimes, playing a poor hand well." — Jack London
25." Life is about making an impact, not making an income." — Kevin Kruse
26." I'll be ok. Just not today." — Unknown
27." We all have two lives. The second one starts when we realize we only have one." — Confucius