In heartwarming news, Mowgli, a fortunate feline was saved by a team of dedicated firefighters in Cornwall, thanks to the quick thinking of an intuitive canine companion.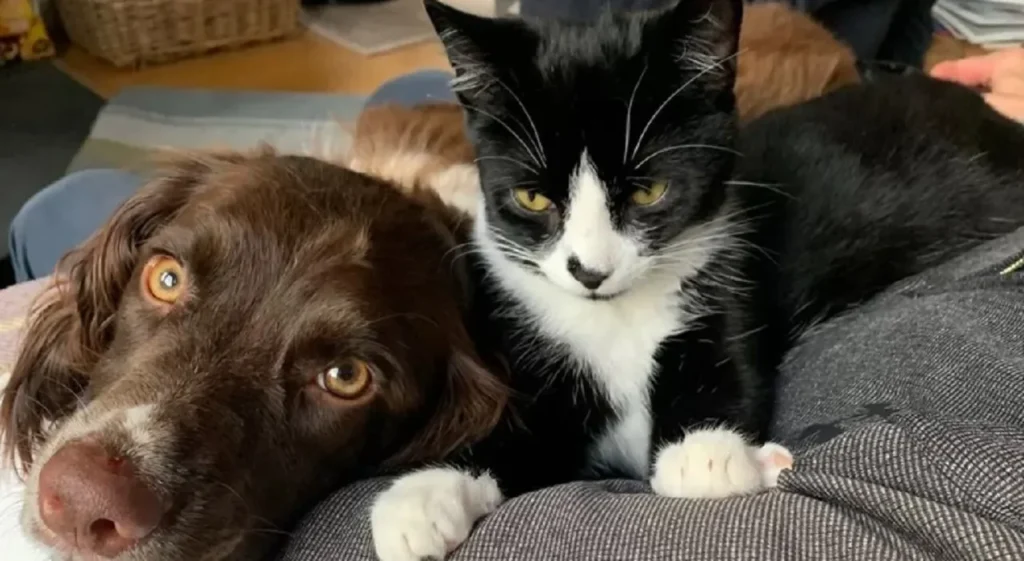 IN THIS ARTICLE
The Disappearance of Mowgli
Michele Rose's beloved cat, had gone missing for six long days, leaving her distraught and nearly resigned to the idea of never seeing her pet again. Mowgli, a playful and affectionate cat, had always been home by dinnertime. But as the days turned into a week, Michele's hope began to dwindle.
The Search for Mowgli
Michele searched tirelessly for Mowgli, scouring the neighborhood, putting up posters, and asking around. She even contacted local animal shelters, but there was no sign of her beloved cat.
Daisy's Intuition
One day, Michele noticed her dog, Daisy, acting strangely. Daisy was a normally calm and collected dog, but she was now frantically running in and out of the woods near their home in Harrowbarrow, England.
"Daisy was going berserk," Michele recalled. "She kept running into the woods and then coming back to me, barking and whining. I knew she was trying to tell me something."
The Firefighters' Arrival
Michele decided to follow Daisy, and they soon found themselves near an old mine shaft. Daisy was barking frantically, and Michele could hear a faint meowing sound coming from the bottom of the shaft.
Michele knew she had to act quickly. She called the RSPCA (Royal Society for the Prevention of Cruelty to Animals) and Cornwall Fire and Rescue.
The Rescue Mission
Upon arrival, the RSPCA and Cornwall Fire and Rescue teams immediately began to assess the situation. The mine shaft was deep and dark, and it was unclear whether the cat was still alive.
Using a specialist animal rescue pole, the firefighters were able to locate Mowgli about 100 feet down the shaft. To everyone's relief, the cat was still alive but was weak and dehydrated.
The firefighters carefully lifted Mowgli to safety, and he was immediately reunited with Michele.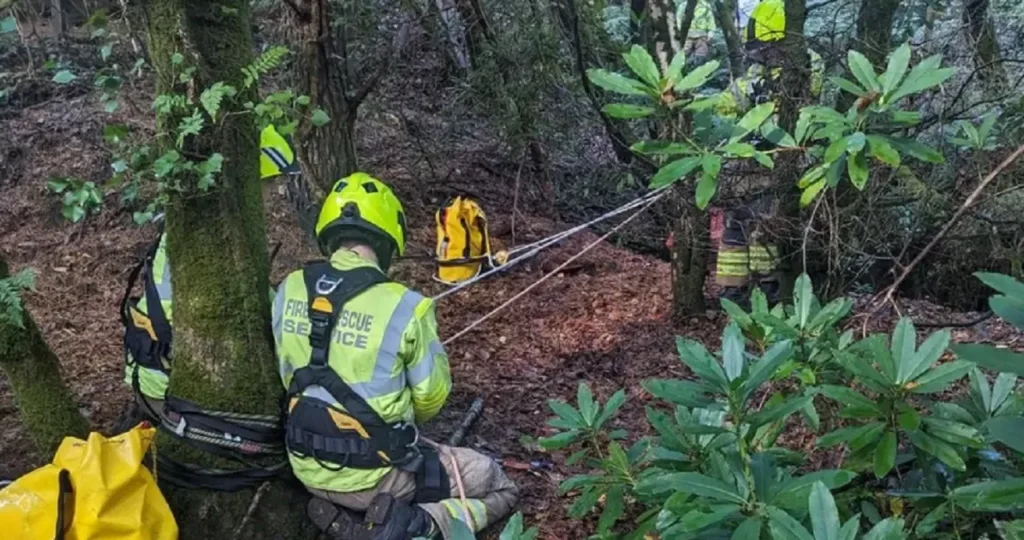 Mowgli: The Safe Return
Michele was overjoyed to have Mowgli back home safe and sound. "I can't believe he's back," she said, tears of relief streaming down her face. "I thought I'd never see him again."
Michele thanked Daisy for her heroic act. "Daisy is a superstar," she said. "She's an amazing dog. Without her, Mowgli might still be trapped down there."
The Importance of Microchipping
Michele's experience highlights the importance of microchipping pets. Mowgli was microchipped, which allowed the firefighters to quickly identify him and contact Michele.
Tips for Finding a Lost Cat
If you lose your cat, here are a few tips that may help you find them:
Search your home thoroughly, including inside closets, under furniture, and behind appliances.
Put up posters in your neighborhood with your cat's picture and contact information.
Contact local animal shelters and let them know that your cat is missing.
Spread the word by posting on social media and asking your friends and family to share the information.
The Power of Community Support
Michele's story is a reminder of the power of community support. When Mowgli went missing, Michele received an outpouring of support from her neighbors and friends. They helped her search for Mowgli, spread the word on social media, and even offered to help care for her other pets while she was searching.
A Happy Ending to a Scary Situation
Michele and Mowgli's story is a proof that even in the darkest of times, there is always hope. Thanks to the quick thinking of Daisy and the dedication of the RSPCA and Cornwall Fire and Rescue teams, Mowgli was reunited with his loving owner.