Behind the towering walls and barbed wires of prisons, a remarkable transformation is taking place. Incarcerated individuals, once perceived as lost to society, are now reaching for academic excellence, earning bachelor's degrees from prestigious universities. In a groundbreaking news, Northwestern University will soon celebrate its inaugural cohort of incarcerated students, marking a historic moment as the first time such individuals will receive a bachelor's degree from a top 10 university in the United States. This momentous achievement is made possible through the Northwestern Prison Education Program (NPEP), a collaborative effort between Northwestern University, Oakton College, and the Illinois Department of Corrections. As we witness these inspiring individuals defy societal expectations and embrace the power of education, we must also explore the profound significance of this milestone and the transformative impact it holds for incarcerated individuals, their families, and communities at large.
IN THIS ARTICLE:
The Power of Education Behind Bars
Within the confines of prison walls, education emerges as a beacon of hope, a transformative force that ignites personal growth, self-reflection, and the potential for rehabilitation. Education empowers incarcerated individuals to break free from the shackles of their circumstances, fostering critical thinking skills, enhancing communication abilities, and nurturing a sense of self-worth. Studies have consistently demonstrated the positive impact of education on reducing recidivism rates, with research indicating that individuals with higher education levels are less likely to return to prison. Education not only equips incarcerated individuals with the knowledge and skills necessary for successful reintegration into society but also instills in them a renewed sense of purpose and direction.
The Northwestern Prison Education Program (NPEP)
At the heart of this transformative journey lies the Northwestern Prison Education Program (NPEP), a beacon of academic excellence amidst the challenges of incarceration. NPEP is a testament to the unwavering commitment of Northwestern University, Oakton College, and the Illinois Department of Corrections to providing incarcerated individuals with access to high-quality liberal arts education. Through a rigorous curriculum that mirrors the university's academic standards, NPEP students engage in a journey of intellectual exploration, delving into diverse fields of study that broaden their perspectives and cultivate their intellectual curiosity. The program's dedication to fostering a supportive learning environment, coupled with the unwavering determination of its students, creates a transformative space where intellectual growth and personal transformation intertwine.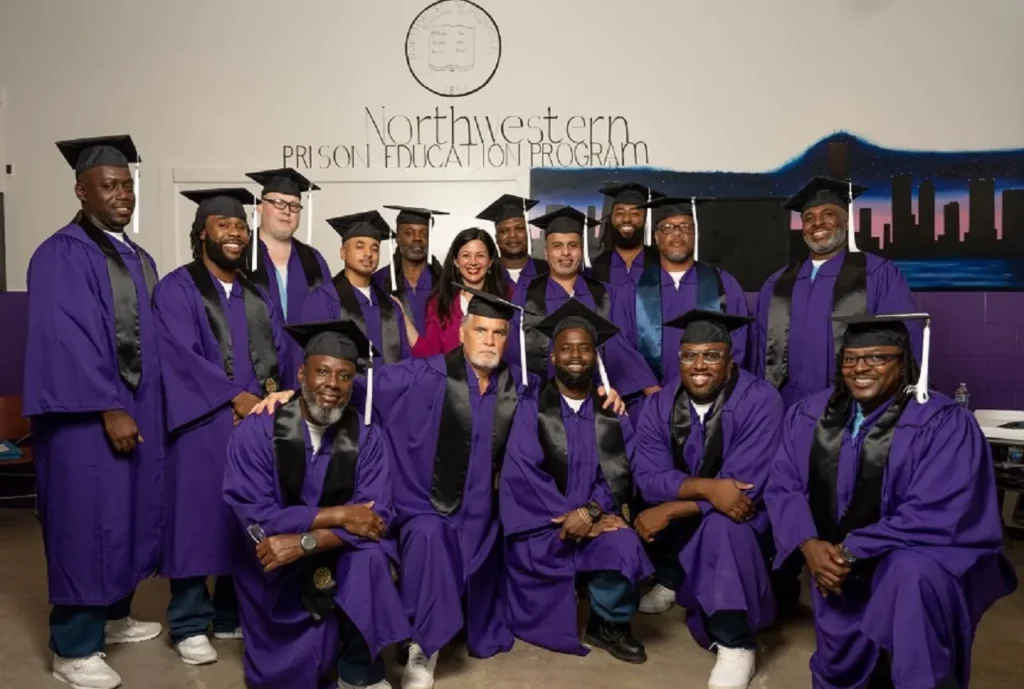 Overcoming Challenges in Pursuing a Bachelor's Degree While Incarcerated
The path to a bachelor's degree for incarcerated individuals is not without its obstacles. Limited access to resources, technology, and support systems poses significant challenges. Yet, amidst these hurdles, incarcerated students demonstrate remarkable resilience and determination, fueled by an unwavering belief in the transformative power of education. Their stories are evidence to the indomitable human spirit, showcasing the ability to rise above adversity and pursue academic excellence despite the confines of their circumstances.
The Benefits of a Bachelor's Degree for Incarcerated Students
The rewards of earning a bachelor's degree extend far beyond the confines of prison walls. Education equips incarcerated individuals with the critical thinking, problem-solving, and communication skills necessary to navigate the complexities of the outside world. A bachelor's degree opens doors to employment opportunities, enhancing their prospects for financial stability and self-sufficiency upon release. Moreover, education serves as a catalyst for personal growth and transformation, fostering a sense of empowerment, self-worth, and the ability to contribute positively to society.
Breaking Stereotypes and Changing Perceptions
The pursuit of higher education by incarcerated individuals challenges deeply ingrained societal misconceptions and stereotypes. Education is not a privilege reserved for a select few; it is a fundamental right that holds the potential to unlock individual potential and foster social transformation. By recognizing the capacity for growth and transformation within all individuals, regardless of their past transgressions, we can dismantle harmful stereotypes and embrace the transformative power of education.
Conclusion
As we celebrate the groundbreaking achievement of Northwestern University's inaugural cohort of incarcerated students, we must also recognize the broader implications of this milestone. It is a resounding affirmation of the transformative power of education, a proof to the indomitable human spirit, and a powerful catalyst for societal change. By embracing the potential of incarcerated individuals to learn, grow, and contribute to society, we open doors to a brighter future, one where education serves as a beacon of hope and a driving force for positive change.
Award-winning author and journalist Ta-Nehisi Coates will deliver the commencement address for @NUPrisonEd.

This graduation marks the first time incarcerated students in the U.S. will be conferred a bachelor's degree from a top 10 university. https://t.co/nTBqtjK0xt

— Northwestern (@NorthwesternU) October 24, 2023